Whether it's in our daily lives or professional lives, automated technologies are replacing time consuming or low value-added tasks. The HR sector is often the last to see progress, but it is finally catching up its delay in this domain, mainly through HR Tech innovations. This being said, 34% of recruiters still don't use simple automation tools to recruit candidates like ATS or multi-posting. This percentage is still rather high concerning new technologies, based on artificial intelligence, especially since there are many of them: AI, Programmatic, Robotic: how does the use of these technologies can actually help a recruiter?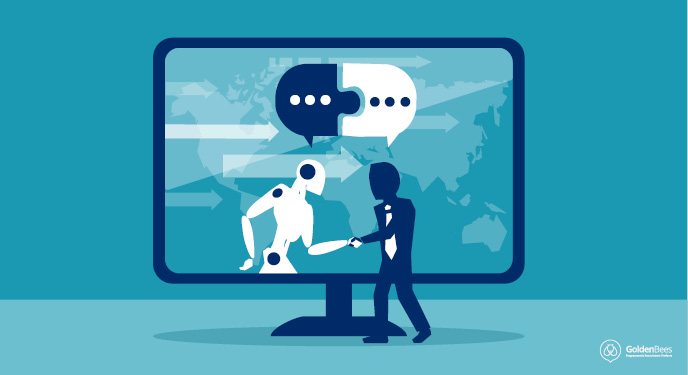 Simple automation to save recruiters 14 working days looking for candidates!
From the attractiveness of the employer's brand to the acquisition and retention of talent, recruiters leverage their skills to adapt to current recruitment contexts. And all of this takes time, whereas more than 50% of the "non-increased" recruiter's time is dedicated to the alienating and non-value-added task of sourcing. The first thing HR expects from innovation is time saving; and in this sense, the first tool adopted by recruiters was the multi-posting tool, which significantly simplifies the entry of offers on job boards and aggregators. Indeed, an internal test conducted by TalentPlug on 123 offers distributed on an average of 8.2 sites showed a time saving of 14 days.
According to a study by Bodet Software, for 59% of companies, "automating the re-entry of applications and the follow-up of responses" is the main motivation for digitising recruitment. A figure that increases even more for companies with more than 250 employees. These multi-posting tools coupled with HRIS tools (simple or more advanced) not only save time, but also improve quality due to the automatic sharing of information between the various people involved in recruitment, as well as providing clear logistical assistance for file management. For its part, CareerBuilder indicates that 69% of HR staff believe that automating tasks allows them to make fewer mistakes thanks to the standardisation of files. It limits human error, which can be detrimental to recruitment.
If we take these aspects into consideration, the result is straightforward: faster and better sourcing management that gives recruiters more time to meet candidates that will improve the company's competitiveness.
Advanced automation technologies to move from Post & Pray to an intelligent e-recruitment system.
AI, programming and robotics are the subject of much debate on their impact on the labour market and on recruiters. In France, we have more than 3 million jobseekers, but according to Pole Emploi (France's National Job Centre), there are on average 450,000 unfilled job offers! Because they are not known to talents? Artificial intelligence makes it possible, among other things, to find the most relevant candidates, including those who are not actively looking for a job, by exploiting the web as a means of recruitment. Proven solutions exist to make the needs of companies more widely known, outside of job offer sites. The social mission of HR innovation is to make the job market more fluid by facilitating the meeting of supply and demand!
Programmatic advertising applied to recruitment, for example, allows companies to publish job offers on the entire web, in an automated and optimised way, to reach candidates who correspond to the profile they are looking for, on the websites they visit. This is made possible thanks to the use of artificial intelligence enabling the modelling of candidate profile data which, transformed into decision-making information, is activated in recruitment campaigns. Thus, companies using programmatic recruitment, such as Korian or Vinci Energies, succeed in reaching and recruiting highly qualified profiles while reducing sourcing time by up to 70%.
If we adapt all the possibilities offered by traditional marketing to HR marketing, the automation of tasks will also allow for a better experience on the employee side (for 60% according to a CareerBuilder study) and therefore a stronger commitment from employees (considered average by 57% of HR decision-makers according to Markess) who will themselves work in a lasting way on the Employer Brand.
Automation, to focus on human value
The other benefit of innovation for recruiters is the increase in human value in the HR function. Artificial intelligence enables actions that are almost impossible for humans to perform, such as instantaneous processing and analysis of a very large amount of data, and offers advanced analysis to help recruiters make better decisions by limiting the risks of poor hiring decisions.
The aim of this human/machine collaboration is to give recruiters more time to concentrate on tasks with very high added value, which they are the only ones able to carry out. HR specialists will (re)become real human resources managers who can focus on managing the careers and skills of their employees. Above all, they will be able to work on the main demand of today's employees, which is the quality of life at work. Current and future developments will, thanks to task automation and AI, put the human being back at the heart of HR work.