HR Sourcing encompases research activities, identification, and involvement of potential candidates. This includes defining, scaling, automation, and ultimately discovering the best sourcing practices in recruitment.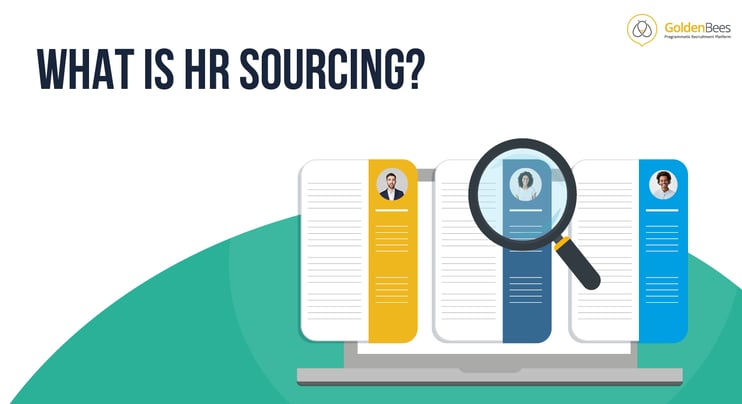 What is HR Sourcing?
HR sourcing is a structured method to identify, involve and network with pools of potential candidates that match your business needs.
Identification usually takes place either:
Internally through internal databases, school directory, etc.
or
Externally: on the web, via CV pools, etc.
🎯 The aim is to generate a constant flow of candidates and build a candidate funnel for current and future positions. This method is also suitable for one-off recruitments. Following an appropriate methodology is key for talent hunting. The sourcing process is a key starting point in recruitment and helps build a solid pool of candidates. It brings together all the phases prior to the interview.
---
To go further:

---
The stages of HR sourcing
Sourcing brings together the following stages:
Defining the genuine need

Identifying the needed position
Those first key steps are to be carried out with the hiring managers or with your client if you are an agency.

Planning a profile sourcing strategy
Through which source should you recruit? When should you? What is the budget for recruitment?
Creating the suitable role description
How can you attract, convince/persuade and inform candidates? The key is to write a quality job description and broadcast your employer branding message to attract talent.
Publishing the job vacancy on the most relevant sources
The question you should ask yourself: "Where is my candidate audience most likely to interact with our advert?
Various testing phases
How can you quickly improve the return on investment (ROI) of your recruitment campaigns through test phases? One option may be to carry out A/ B Testing on automated recruitment campaigns.
Receiving and centralizing applications
A Common method is directly into your ATS.
Sort through applications according to their relevance. Find quality amongst the quantity throughout the sourcing process. More streamline this step is, the more relevant your candidate pool will be. In order to save time on this step, you can use a matching software to score the applications' quality.

Adhering to these milestones can be a key in the face of the numerous challenges of CV sourcing.
The challenges of quality recruitment.
Recruiters face several challenges. Here are some of the common challenges most recruiting teams face in their operations:
HR Teams need to stand out
And they need to do so in a unique way to stand out from increasing competition. This is why the employer brand must support recruiting efforts. Recruiters have to adopt a 360° on their recruitments.
Identify the right talents for a peculiar position
Various factors need to be taken into account: the candidate's interests, soft and hard skills on one hand, and the specific expectations of managers and the company on the other hand.
Respecting recruitment deadlines
The inner workings of the business have to run continuously. While some recruitment needs are time-bound and can be anticipated, others will be ad hoc and urgent. Automation of time-consuming tasks and a pool of qualified candidates will be your best allies in meeting this challenge.
Unextendable budgets
Talent acquisition processes need to be optimised in terms of costs: when search systems are not efficiently maintained and streamlined, HR teams can face increasing recruitment rates that exceed budget plans. Accurate tracking of KPIs and performance investments will enable a better return on investment.
Data centralisation
Data can derive from various channels (job engines, career sites, social networks, etc.).
The centralisation and analysis of this data by candidate audience and by CV acquisition media is still insufficiently exploited by recruiters.
The good news is, automation is a great way to meet all of these challenges!
---
To go further:
HR SOLUTION: UNDERSTAND PROGRAMMATIC RECRUITMENT IN 2 MINUTES
---
How can you automate your recruitment sourcing actions?
As a recruiter, do you feel like you're running out of time? So why not delegate repetitive tasks without added value, to focus on more fulfilling parts of your job?
A good automated HR sourcing system manages individual tasks, or even complete workflows, within the recruiting funnel. Recruitment tasks that can be automated depend on how your teams function, your requirements, and the level of recruitment automation you require.
Recruitment tools like candidate tracking systems (ATS), candidate relationship management platforms (CRM) or chatbots all contain many features which help you automate tasks.
The only question you need to ask: which actions don't require me to spend time on them?
To begin with, the first phase of posting job offers can be completely automated to save time…but that's not it!
What tools should one use for automated recruitment?
When it comes to broadcasting job vacancies across the web, a good programmatic recruiting system will be as efficient… as you. The ads are distributed automatically and to a tailored candidate audience across various supports: display, social, job offer aggregators, urban digital displays, audio ad on Deezer or Spotify… Aspiring candidates can even access dynamic applications pages, which will adapt according to their profile.
Applications are automatically scored: each application receives a score according to the semantic fields they contain with regard to your offer, and the applications land in the ATS in a jiffy!
Why you should automate HR sourcing
An automated and optimized candidate sourcing (supported by a programmatic recruitment solution like Golden Bees) allows you to:
Reach an already qualified candidate audience
Do not ask yourself the question "Where should I post job offers to make them visible to my candidates?". By automating your candidate sourcing actions, programmatic algorithms do the work for you! Thanks to candidate audience segmentation, offers are sent to the right place, at the right time, and to the right candidate.
Save time
Automation drastically reduces the time you spend on repetitive and time-consuming tasks, like negotiating and buying space to advertise your job offers. Use the time you save to hire managers or to refine the requirements of your clients if you are in a recruitment agency.
How? It is quite simple, if the algorithms determine that a certain type of candidate is absent on a medium, then it will move the budgets elsewhere. Smart allocation of the recruitment budget will ultimately lead to higher ROI.
What's next?
Automated HR sourcing is a first key step in the recruitment process.
Once the qualified applications have been received, you enter the candidate approach stages and the pre-qualification interviews.
You then move forward through funnel recruiting to get closer to the final goal. You can now conduct qualified interviews or work on your candidate pool (sending employer brand messages, re-engaging on different positions via retargeting, etc.).
On the same topic: