To meet its many recruitment targets, the STIB must develop an ever more innovative recruitment and employer branding strategy.
By collaborating with Golden Bees, STIB is now optimising its campaigns and increasing awareness of its professions through programmatic.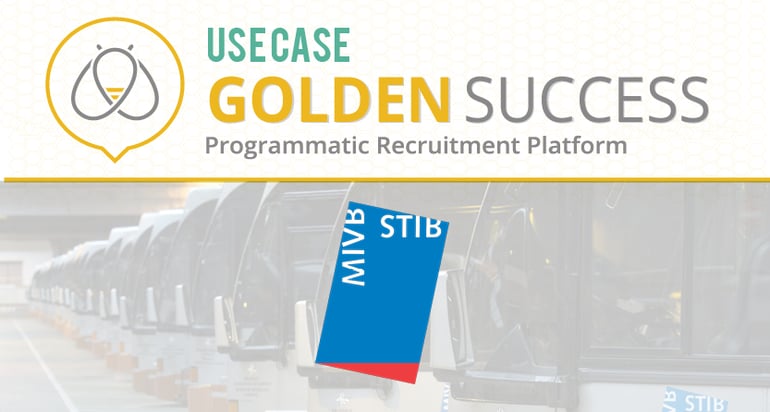 "We don't have an extendible budget, but thanks to programmatic, we can fine tune our strategy and achieve better results".
STIB is a public entity, in charge of organising public transport in the Brussels Capital Region. Every 5 years, a public service contract sets out the tasks and commitments for STIB and the Region, on the development and improvement of transportation in Brussels.
The STIB is facing a major recruitment need in order to comply with its commitments. The company is constantly looking for behavioural skills to train and hire Bus Drivers, as well as technicians and IT.
Johan Claes - Employer Branding & Sourcing manager at La STIB shares his experience with Golden Bees.
1/ What is the job of Employer Branding and Sourcing Manager at STIB?
I have been working for 9 years at STIB, Brussels Intercommunal Transport Company, as the Employer Branding & Sourcing manager. My job is to organise recruitment campaigns, employer branding, and to use new processes and technologies to raise awareness on STIB and our open positions.


2/ What are your needs and recruitment challenges?
We have many challenges related to high volume recruitment needs and based on the behavioral skills of candidates, especially for bus drivers.
In 2020, we have planned on recruiting 500 candidates for this position.
We are also in the midst of a talent war on qualified profiles, yet in short supply, in positions like IT, engineers and specialised high school graduates in the electronic and electro-mechanic sector.
3/ Why work with Golden Bees?
With the importance of the internet and social media, it is challenging to decide with which online media to work and how to use it best to meet our recruiting needs. Confronted with the rise of different acquisition channels and the increase of our recruitment requirements, we have chosen to work with Golden Bees and use programmatic, to better outline and target our candidates, on the right medium and at the right time.
4/ In your opinion, what is Golden Bees' value proposition on programmatic campaigns?
We conduct regular reviews, with Golden Bees. Transparency on campaign monitoring was key to us. The teams at Golden Bees, keep us informed on how the campaign does, especially since we have access to a Back Office to see how our budget is being distributed, in real time. Throughout the operation, we go into the details of the reporting and have proposals and optimisation advice to refine the campaigns to achieve better results.
5/ Why use programmatic?
Given the current situation, using programmatic is essential. Working like in the «old times» without having measurable and adjustable results, is no longer possible.
We don't have scalable budgets, but thanks to programmatic we can constantly readjust our strategy to get the best results with the budget. As data comes in, we can better understand our candidates and optimise our campaigns.
6/ Can you talk about a campaign created with Golden Bees?
I always try out the businesses I work with! So, we challenged the teams at Golden Bees on the campaign of hiring Bus Drivers. At STIB, we took everything into account and we observed the increase in the number of applications, which helped reduce the pressure of looking for such candidates. As the results were positive, we immediately launched campaigns for more technical positions. Once again, we were delighted with the results we got, even for more technical profiles.
7/ You also work on employer brand campaigns with Golden Bees?
Indeed, we launched a programmatic campaign for the SIMBUS app, a driving simulation game of a STIB bus. The aim of this application is to increase awareness about our open positions for Bus Drivers, by reaching to potential candidates through gaming. This way, we can potentially create new callings and reach out to the candidate directly through the game.