To meet its recruitment goals, SNCF Reseau has now included programmatic advertising within its strategy. Through the collaboration with Golden Bees, SNCF Reseau has managed to optimise its campaigns and increase its number of qualified candidates.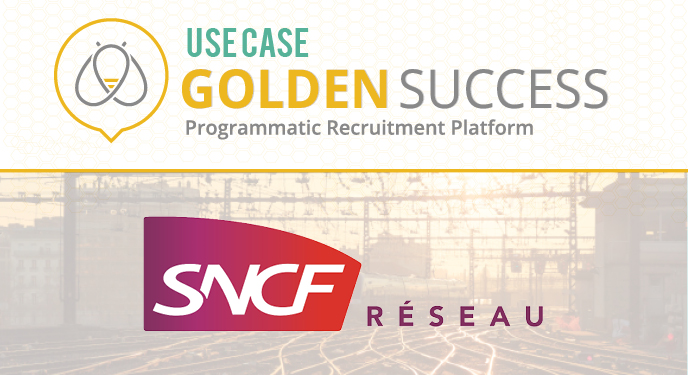 "Recruiters must make the best use of marketing tools to attract the best talents"
Claire Pardo's experience on the collaboration between SNCF Réseau and Golden Bees
SNCF Réseau, in a few figures
55 000 employed agents
2 000 recruitments per year
30 000 km of railways, of which 2 600 km of high speed railway lines

SNCF Réseau is the manager of the railway infrastructure, maintaining and developing it. To achieve its objectives, SNCF Réseau is recruiting on a massive scale for highly skilled engineers and technicians.
In order to attract these sought-after candidates on the job market, SNCF Réseau has approached Golden Bees to improve its brand reputation and increase the number of pre-qualified candidates.
The interview
Hello, my name is Claire Pardo, Communications Director at SNCF Reseau
for the Ile de France region.

SNCF Reseau in a few words?
SNCF Reseau is the infrastructure manager which operates, maintains and develops
the rail network in France. There are about 55 000 employees,
of which 13 000 are just for the Ile de France region (Paris region). In terms of recruitment,
we recruit around 2000 people per year, mainly in engineers and technicians. And between 800 and 1000 just for the Ile de France region.
What are your recruitment challenges?
SNCF Reseau recruits in the technical sector, on a massive scale. In the electricity sector, telecommunications IT Services, the construction sector. In absolute terms, these are rare profiles
and sought-after talents throughout France and beyond. Real competition has taken roots, among contracting agencies, in order to attract them.

What are your employer brand challenges?
SNCF Reseau has major employer brand challenges with many candidates. One challenge is to raise awareness, about the SNCF Reseau brand. Everybody knows about SNCF but few know SNCF Reseau very well or the job positions at the company. Candidates are familiar with positions like train driver, or inspectors, positions they encounter through their daily lives. For example, rail signallers, a back-office profession, isn't very well-known. Even so, we recruit around 400 rail signallers currently in Ile de France just for 2019. Hence why, it's a major challenge for us to
raise awareness about SNCF Reseau but also introducing all these professions which aren't very well known to people or let's say unheralded professions.

Why did you choose Golden Bees?
Firstly, Golden Bees is going to help us improve SNCF Reseau's brand awareness and about all these professions. It's also going to help us improve awareness about our fairs and forums
which we are going to organise and already organise. What we expect from Golden Bees
is to improve the ratio of pre-qualified number of candidates compared to the number of applications we receive. Generally, this ratio is around 30-40%. Of which only a small amount of candidates are selected. Therefore, we need this ratio to be as high as possible in order to meet our goals.

What are the advantages of this collaboration?
What I appreciate the most with Golden Bees is the support. We are in the digital sector, and in the digital sector, we try new things and learn all the time. There is no secret solution that we can implement forever. It is a continuous training process, which helps us improve but also adapt to new candidates and how they work. That's what is great with Golden Bees as they accompany us
between each campaign in this continuous improvement process, which is once again essential in
the digital sector.
What is the future of the SNCF Reseau/Golden Bees collaboration?
Today, we can clearly state that the power lies with the candidate. And much less with the recruiter.
This trend is going to intensify in the coming years. Our collaboration with Golden Bees is all about
anticipating these evolutions. We have less and less candidates on one hand and more and more requirements on the other. Mechanically, recruiters need to play their cards right and use the
marketing tools to the best of their capacities, to attract the best talents but mostly retain them.