In a highly competitive job market, recruiters have difficulties in attracting certain profiles: these are known as sought-after talents. The talent acquisition strategy must therefore be innovative, personalised and proactive in order to respond effectively to companies' recruitment needs. These are challenges to which programmatic recruitment provides a tailor-made response.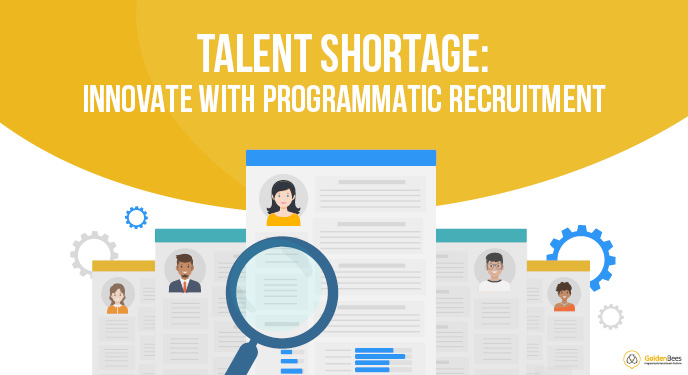 1. The war for talent
The digitisation of the labour market continues, and with it a growing need for high added value skills. Despite the drop in job offers in the current health crisis, certain positions remain highly sought after by recruiters and difficult to fill: supply exceeds demand. The recruitment of rare profiles is a central issue for recruiters: according to our study, 41.5% of them considered the acquisition and recruitment of sought-after talents as one of the main recruitment challenges for 2020. The most difficult profiles to recruit are IT candidates. At the top of the list are engineers (for 23% of recruiters), maintenance/installation profiles (for 21% of recruiters), sales reps (19%) and IT profiles (16%).
These profiles are in high demand with recruiters: in most cases, these profiles are approached with offers rather than the other way round. They are demanding targets who are overwhelmed with choice. Most of the time, they are not actively looking for a new job. They do not use traditional search channels: they are passive candidates. They are therefore more difficult for companies to attract. Therefore, it is hardly surprising that recruiters are dealing with an insufficient amount of applications for some positions or with poorly qualified applicants.
How do you attract these gems? When traditional channels are not enough, you will need to adopt innovative methods to attract these talents. These include programmatic recruitment.
2. How does programmatic recruitment work?
Programmatic recruitment is a performance-based solution. It uses powerful algorithms to optimise tedious tasks in the recruitment process. It allows you to automate, using a single platform, the distribution of job offers and employer messages across the web to pre-qualified candidates. It provides several advantages: increased brand awareness, time savings (up to 70%), cost savings (90% vs. traditional channels) and an increase in the volume of qualified applications.
These are not the only advantages: programmatic recruitment takes advantage of its virtually unlimited inventory (98% of the web) to reach both active and passive candidates. These candidates are resistant to traditional approaches and excessively approached by recruiters through traditional contact channels. They are difficult to reach through the usual recruitment channels (e.g. job search engines or job boards). Innovating in your approach and differentiating yourself from other recruiters is the best way to attract these talents. The methods deployed as part of a programmatic recruitment campaign represent a strong driving force in attracting these potential employees.
3. How can I reach sought-after talents with programmatic?
a. Define your target
First, you need to define, as clearly as possible, the criteria for the position. Determine the ideal candidate in order to better address him or her. The offer must immediately speak to the targeted profiles. A good way to adapt your message to your target audience is to define Candidate Personas. This marketing-inspired technique will help you better understand your target group and the tools you need to attract them. You will then be able to tailor your message and achieve better performance on your job offers.
b. Refining your approach
Writing the perfect job offer is essential is essential in attracting the right talents. Choose the words carefully and define set of specifications:
Message - 36% of candidates complain about poorly written job offers. Our advice: choose a clear and precise title, make sure you include the information that is essential for candidates. Use SEO best practices for readability: divide the description into several paragraphs, use short sentences and emphasise important words in bold.
Commitment - Indicate specific goals to be achieved for the position and what's at stake for the company looking to hire the candidate.
Tone - Adapt it to your target audience and personalise your communication style. According to a LinkedIn study, candidates exposed to job offers that are too informal are 4 times more likely to dislike the employer.
Format - Use different formats. Highlight your work environment and team with photos, or promote the position with a video. These immersive formats are very popular with candidates.
Finally, make sure you provide a great user experience on your website as well as an intuitive candidate journey on your application pages: the application rate drops by 365% when the application process lasts more than 15 minutes.
Second step: sharing your job offer. There are many possibilities: programmatic advertising provides a wide range of formats and interactive media according to your needs.
Thanks to this cross-channel approach, programmatic recruitment allows you to attract on average 60% more qualified applications and 50% more applications in terms of volume.
c. Enhancing the value of your company
Programmatic recruitment is used to promote job offers. But it can do much more: you can also use it to reinforce your recruitment campaigns with employer brand ads. A great way to promote your company's advantages and culture with these demanding candidates. Therefore, programmatic offers countless possibilities to reach and engage with sought-after profiles. For passive candidates, this is also a positive sign, as they will see an innovative company that's not afraid to reinvent its communication strategy.
Employees are your number 1 ambassadors and they can also support the company's communication strategy (through blogging, employee testimonials, press articles, webinars, posts on social networks, etc.).
These articles may also be of interest to you: