The value of social media in recruitment has been proven. It offers many advantages, such as building your reputation, enhancing your employer brand and increasing your attractiveness for potential recruits. How can you better engage candidates through social networks? How can you harness their potential to turn them into attractiveness and recruitment drivers? We provide the answer in this article.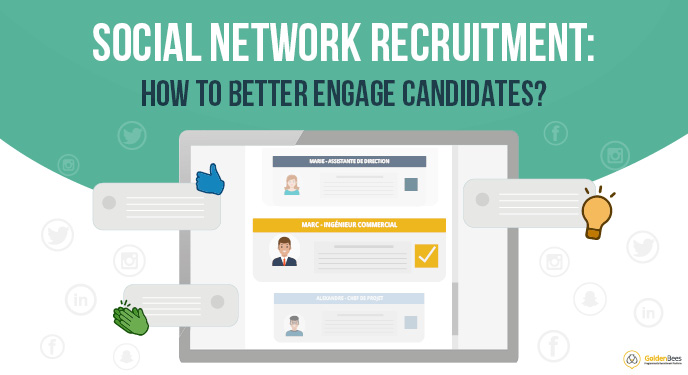 1. Define your target candidates on social networks
a. The Candidate Persona, a sketch of your ideal candidate
The first step to better recruit on social media: identify who you're talking to. Who is your ideal candidate? What's their professional profile, what are their interests? This will help you to define your Candidate Personas. This HR marketing technique will give you a better understanding of your targets, just like marketing professionals do with their clients. The aim: to provide content or a job offer in line with their expectations. Understanding your targets will help you identify how to reach your potential candidates and on which media.
b. How do you define your candidate persona?
In order to create your candidate personas and better recruit on social networks, you need to ask yourself a few questions:
What are you looking for? What skills and qualities do you expect from your future recruits? What will be their role in the company and the team? What do you offer in terms of work environment, benefits, values?
Regarding candidates: what is their average age? What type of company do they work in? What are their preferred social networks? What are their main personality traits? Which subjects are they interested in? What do they expect from a future employer?
2. Define your communication strategy
Customising your HR communications will help you improve your recruitment efficiency. Here are a few ideas to help you implement your recruitment strategy on social media.
a. Inbound Recruiting to build a long-term relationship with candidates

Inbound Recruiting is a recruitment method that involves attracting talents to you to grow your pool of candidates. The aim is to create a long-term relationship by sharing content that is relevant to your targets. It is a global recruitment strategy to be used, among other things, on social networks. To optimise your attractiveness, define a specific editorial line for your distribution channels: the tone of your communications, specific formats ( some targets are more responsive to video, for example), and distribution channels. Through dynamic and striking communication, the appeal phase begins to convince your audiences to join your communities and stay up-to-date with your news. This in-depth work will pay off in terms of better, faster and cheaper recruitment. According to a study carried out by LinkedIn, 91% of recruiters in the process of Inbound Recruiting state that candidates are better informed and therefore more relevant.
b. Targeting on social networks, an essential tool
Targeting reinforces your approach to engage your candidate audiences. This high-performance tool is now essential in recruitment. The range of targeting options and criteria for running paid campaigns on social networks make it a major driver for boosting an action or responding to a top need in a highly targeted manner. By delivering the right messages to the right people, commitment is increased and the impact of communications enhanced. Once again, this highlights the importance of knowing your candidate personas. By knowing your targets and communicating in the right way, you create a strong framework for an effective targeting strategy.
c. Empathy, an essential element for better recruitment
No miraculous algorithm here: it is a question of positioning. Putting yourself in the candidate's shoes is an empathic exercise. Even before interacting with the target, it is about placing oneself in their shoes and trying to understand their desires and drivers for action: what are they looking for in a new job? What are their underlying expectations? What motivates them to change jobs? What are their objectives? What are their concerns? A target group of young graduates may, for example, be interested in advice for successful interviews or in an introduction to a job. Others may be more interested in career development or your social commitments.
Empathy is a necessary condition for recruiting through social networks. It is by understanding the targeted profiles, by putting yourself in their shoes, that you will succeed in attracting them through relevant messages. You will achieve better results in your recruitments and as a result in the successful onboarding of these candidates that are now your employees.
3. Interaction, the backbone of social media recruitment
We can never say it enough. Social networks are great allies in capturing the attention of potential candidates and recruiting them better... But they do not replace interaction and human relationships. They are the first steps to building a relationship. Technology plays a predominant role in the development of social networks, but let's not forget that interaction is their very essence.
Regardless of the platform you invest in: interact with candidates, reply to their questions and remarks, be attentive to their expectations. In short, take care of them and make sure you deliver a great candidate experience. It is certainly not easy to reply to everyone. The techniques mentioned above will help you: by capturing profiles that meet your recruitment criteria (and vice versa), you can pre-screen them. For the most frequently asked questions, you can use a chatbot to help you, for example.
Beyond the candidate experience, the quality of the interactions with your potential candidates also puts the credibility of your employer brand at stake. This is not only the responsibility of recruiters, your employees are equally important spokespersons and brand ambassadors that should not be overlooked. By sharing their experiences and testimonials or by reacting to your company's posts, they inevitably become ambassadors and even influencers, who can play a critical role in your positioning on social networks.
These articles may also be of interest to you: