How to recruit Millennials? According to a Deloitte study, 45% of them expect to leave their current job within two years. The stakes are high for recruiters: this lack of loyalty is both a risk and an opportunity. How to address Generation Y? What tools or mediums should be used to recruit them? Are Millennials really different from others in their job search?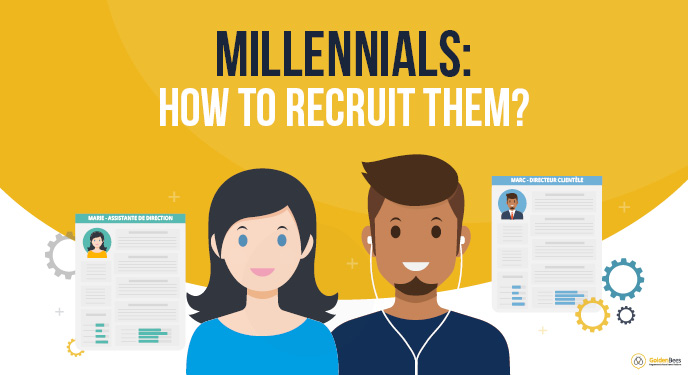 1. Where do you find Millennials?
a. A "Digital Native" generation
Generation Y has grown up with digital technologies: no wonder 73% of them are job hunting from their smartphones, according to a Corner Jobs study. The most important thing to attract them is to have a career webpage and mobile-friendly application form and process. Highly connected, millennials dedicate 1 to 10 hours a week in their job hunt. However, there is a nuance: millennials are primarily digital, but use other channels on a daily basis. The multi-channel approach is essential to properly address and recruit this target group.
b. A developed use of social networks
Our study lead in France on candidate expectations reminds us that the Generation Y has strong social uses. For example, 55% of 18-34 year olds are receptive to recruitment information posted on social networks. However, they remain fully aware of the excesses involved in these practices. Deloitte's Millennial Survey 2019 underlines their caution with regard to social networks: 50% of them "consider that the benefits of new technologies outweigh the risks associated with sharing personal data". In short: make sure that you follow the basic rules of the GDPR when recruiting.
This generation is characterised by the use of various formats: they also listen to recruitment information - online media websites at 34%, Youtube in-stream videos at 32% and audio commercials on streaming platforms at 16%. Twitter also stands out in terms of social recruiting. Many candidates use it in their job search to build a professional identity, to speak out on their favourite subjects or to highlight their commitments.
2. How to convince Generation Y?
a. The importance of values
Millennials are sensitive to company values when job hunting. According to our study on candidate expectations, 18-34 year olds are looking for meaning in their work, a finding shared by the Deloitte Millennial Survey 2019. The company's model must therefore be transformed at various levels to better recruit them:
Add transparency to your processes, salary and entrepreneurial information...
Maximise your social impact with strong commitments to solidarity, the environment, diversity, equity… Many initiatives exist to support you in your CSR strategy. The startup

Carbo

, for example, helps you measure your carbon footprint and assists you in minimising your environmental impact.
Build a positive working environment in terms of both environment and management.
b. Pragmatic expectations
The primary objective of Millennials in their job search is to find meaning in their work. But contrary to popular opinion: no, Millennials do not live only on love and Instagram. As a survey by ManpowerGroup (2016) shows, money (86%) and job security (84%) are two determining factors in choosing their job (followed by free time, flexible hours and career opportunities). These results highlight the contrasting expectations of this generation, mixing idealism and pragmatism.
c. E-reputation
What is e-reputation? It is simply what is said about your company online. It concerns your communications, but also the messages conveyed by different users: consumers, candidates, employees... In short, it's what comes up when you search for your company online.
It is an essential part of your employer brand image. Nearly 8 out of 10 French people check customer feedback before buying a product or service... and the recruitment world is no exception to this kind of web surveillance: the CareerArc study shows that 68% of Millennials go on social networks specifically to evaluate a company's employer brand. Our advice: follow platforms such as Glassdoor or Choose my company to find out what people think about your company and to promote your employer assets. Get involved, respond to feedback and encourage your employee-ambassadors to communicate on these networks.
3. Candidate experience: a demanding generation
a. A user-friendly career website
The career website is an essential page for boosting your employer brand. The user experience must be carefully designed to encourage candidates to apply and immerse themselves in your culture. Here are the main elements for a good career website to ease the application process:
A good user experience (UX): it must be ergonomic and responsive: optimise the content and navigation on the site. Generation Y is digital native, and is therefore particularly demanding in its uses on the Internet, including job search.
Optimise the application process: According to an Easyrecrue study, it takes an average of 41 clicks for a candidate to apply for a job offer. The candidate journey must be simplified as much as possible in order to retain candidates.
Highlight the most important information: work on your employer brand message, develop content around your corporate culture.
Offer potential candidates the opportunity to join your community, for example with a newsletter.
b. Innovative recruitment processes
Innovate in your recruitment processes. There's no shortage of new HR tools: DOOH, virtual reality, serious games... The aim: to immerse candidates in the daily life of your company. Generation Y is sensitive to innovative recruitment processes in their job hunt and when deciding with which company to move forward.
For example, try the Realistic Job Simulation (RJS): this technique immerses the candidate in the daily life of the job in virtual reality. The company can thus directly test the candidate's abilities and determine whether he or she is suited for the job.
Another trend is the gamification of recruitment (escape games, hackathons, challenges, etc.) which help highlight the candidate's relational skills. According to the 2019 Talent LMS study, 78% of respondents consider that gamification in recruitment processes improves the attractiveness of the company.
These articles may also be of interest to you: