Programmatic recruitment makes it possible to automate sourcing through a single platform. This HR-tech helps Recruiters broadcast job listings and employer branding messages across the web, to a very qualified audience of candidates.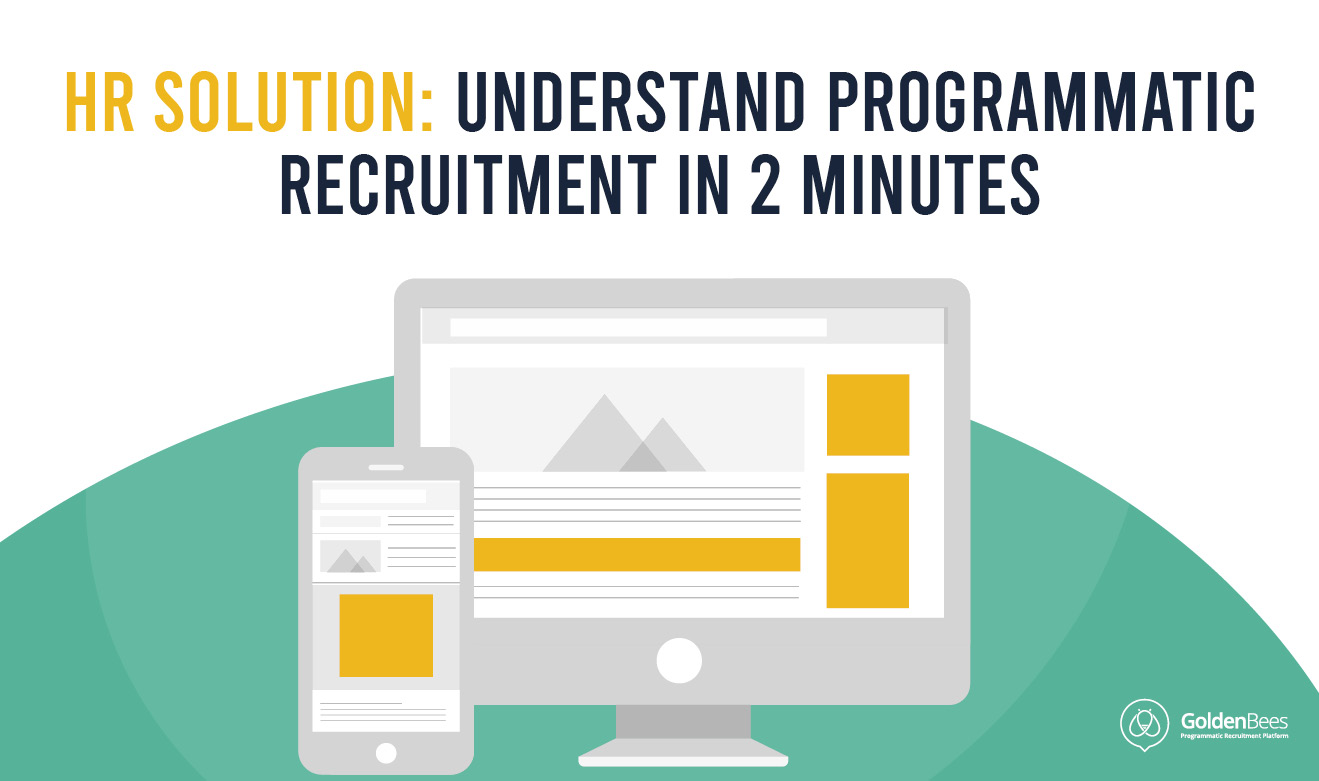 HR PROGRAMMATIC: WHAT IS IT?
Using programmatic advertising in recruitment allows HR professionals to display job offers and employer branding communications on all available online media to a segmented and qualified candidate audience.
Job listings are published in various advertising formats: display banners, videos, native ads, text ads.
On websites and social networks, in all media contexts, to address passive candidates
On job aggregators like Neuvoo, to reach candidates who are actively looking for jobs.
98% of web and mobile inventory is covered and accessible to broadcast job listings and/or employer branding messages.

HR PROGRAMMATIC: HOW DOES IT WORK?
1. Define the candidate profile
Hard to fill skillsets, location, sector, position. The recruiter defines the type of candidate they would like to target, in advance.
2. Targeting the candidate audience on the web
The deep learning algorithm (an automated learning method based on big data) digs into its database (or Candidate Data Platform) and offers a range of sites or mobile applications on which to reach the targeted candidate. It indicates where, when, and on what sort of devices the role should broadcasted so that the targeted candidate is able to interact with the job ad.
3. Buying advertising space
Media buying takes place in the real time through an auction, on a marketplace (or AdExchange). The highest bidder gets to have his advertisement broadcasted. This is called RTB (Real Time Bidding).
Campaign purchasing is completely automated. Investment decisions are ruled by algorithms and data that define the best bidding strategies based on the match between the candidate audience and job listings.
Campaigns are entirely performance-oriented: the recruiter only pays when a candidate shows interest in his offer.
A SOLUTION IN KEEPING WITH GDPR
Programmatic activity includes collecting and processing anonymous user data. Implementing a platform to collect their consents (CMP) allows recruiters to comply with the GDPR.
HR PROGRAMMATIC:
HOW DOES THE RECRUITER BENEFIT?
1. Automation and time-saving
Technology deals with all time-consuming tasks related to the sourcing process. Programmatic carries them all out from a single platform. Recruiting teams could save 60% of their time on average compared to the traditional method, upon switching to programmatic recruitment.
2. Measurable performances
Programmatic recruitment platforms provide comprehensive analytical reports at your fingertip. This ultimately enables you to identify the most effective sourcing channels so you can keep using them.
3. Cost reduction
Machine learning technology continuously feeds the algorithm. Data-driven targeting of candidates and smart budget allocation, in real time and based on performance, could reduce the cost per application by up to 90% compared to traditional sourcing channels.

4. Simple to use
The entire process is automated and centralized on a single platform. The recruiter themselves can use an automation platform, or delegate it to programmatic recruitment media traders, who can offer fully managed service.
Programmatic recruitment's major advantage lies in human value growth, within the HR function.
By allowing people and machines to work together, HR programmatic frees up the recruiter's time and resources, which they are then able to allocate to other tasks that require human interaction.
To go further:
On the same topic: