Figaro Classifieds, French leader in online employment, takes a majority stake in Golden Bees, leader in programmatic recruitment in France. It is a strategic merger, in order to continue their development on the French and International market.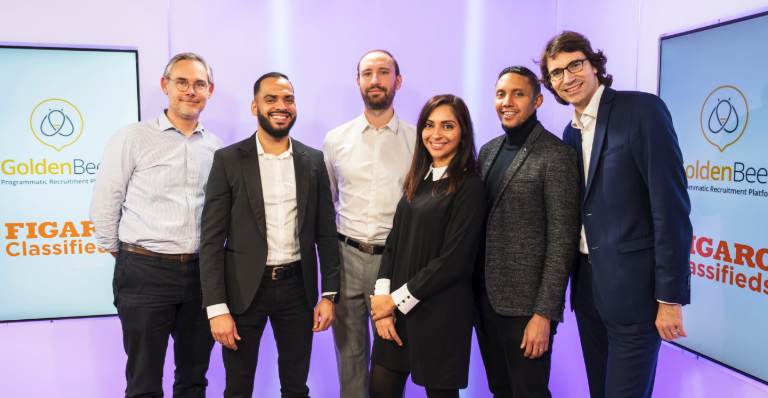 Press release
Golden Bees is the leading company in programmatic advertising, helping companies hire better.
Founded in 2015 by 4 enthusiasts of new technologies, Golden Bees provides companies with the right tools to combine power and efficiency, in order to improve their candidate sourcing and their employer brand communication online.
Golden Bees is a programmatic recruitment platform that automates the distribution of job offers and recruitment campaigns in the form of targeted and optimised advertising on the web, social networks, search engines and job aggregators. The advantage for recruiters is both to capture passive candidates who match the profiles they are looking for by targeting the sites they visit and to reach active search candidates by optimising the exposure of their ads on multiple job boards.
The market, technical and technological expertise of Jonathan Bordereau CEO; Fariha Shah CMO; Sebastien Accambray CTO and Saqab Shah COO, has made it possible to develop a unique solution in the recruitment industry with the main goal being: to improve the match between supply and demand on the job market with a performance-based model.
Today, with more than 40 employees, Golden Bees' teams provide an innovative and disruptive solution to more than 200 active customers in France and in Europe.
«Thanks to this strategic partnership with the French leader of online recruitment, Golden Bees enters a whole new dimension. This operation is going to allow us to deploy our solution with 15 000 recruiters, who work with Figaro Classifieds on a daily basis. Our new shareholder will enable us to accelerate our international expansion and continue to develop what will be the recruitment technologies of tomorrow", says Jonathan Bordereau, CEO of Golden Bees.
An investment that is in line with the strategy of Figaro Classifieds and the Figaro Group
With this acquisition of a majority stake, Figaro Classifieds is thus pursuing its development and strengthening its leadership by adding the performance solution provided by Golden Bees to its range of services for recruiters.
In a contradictory labour market with unemployment rates remaining high and companies declaring that they have difficulties hiring the right profile in most cases, Figaro Classifieds allows them to benefit from a complementary solution on a larger spectrum of positions.
This operation is part of the global strategy of the Figaro Group, the leading French digital group, which already has a strong presence through its advertising agency MEDIA.figaro and its subsidiary CCM Benchmark on the programmatic advertising market, notably with ZBO MEDIA.
"We are delighted with this acquisition of a majority stake in Golden Bees, a company that we have followed closely since its beginnings. This merger is perfectly in line with our strategy and will enable us to leverage numerous synergies. We are very proud to carry out this merger with a former employee, Jonathan Bordereau, who spent 3 years at Figaro Classifieds. With Golden Bees, Figaro Classifieds is consolidating its position as French leader in the online job market and opening up new opportunities in Europe," says Thibaut Gemignani, CEO of Figaro Classifieds.
*********************


About Golden Bees
Founded in 2015 by Jonathan Bordereau and Fariha Shah, Golden Bees is the first intelligent candidate targeting solution, in the recruitment process through programmatic advertising. Based on a series of proprietary technologies, Golden Bees delivers recruitment ads through advertising, in a targeted and automated manner, across all relevant media contexts and online media. Golden Bees has more than two hundred corporate clients in Europe, including FED Group, SNCF, Manpower, the French Army, STIB, Credit Agricole and Capgemini. Golden Bees was certified Pass French Tech in 2018.
More information on Golden Bees https://goldenbees.fr/
About Figaro Classifieds
More information on www.figaroclassifieds.fr
Figaro Classifieds is the French leader in online advertising, with a turnover of 70 million € and more than 400 employees.
Figaro Classifieds is part of the Figaro CCM Benchmark Group, the 4th largest Internet player in France and the leading French digital group, reaching 2 out of 3 French Internet users, every month on all its websites.
Its mission is to provide answers to 3 essential concerns French people have: Employment, Education and Real Estate.
Figaro Classifieds is the Number one leader in Online Employment and Training in France with brands like Cadremploi, Keljob, Chooseyourboss, Viadeo, CVaden, Le Figaro Etudiant, Campus Channel and Kelformation. Through its "multi-brand" strategy, Figaro Classifieds provides Internet users and professionals with the most comprehensive range of services on the market.
Would you like more information about our synergies? Please contact our teams!