The search for a new job is often a complicated process for candidates, but the experience offered by recruiters during this process is often quite a poor one, time consuming and too vague for candidates. Here are 5 trends, 5 things to keep an eye out for and to take into consideration in 2020 to offer a better recruiting experience.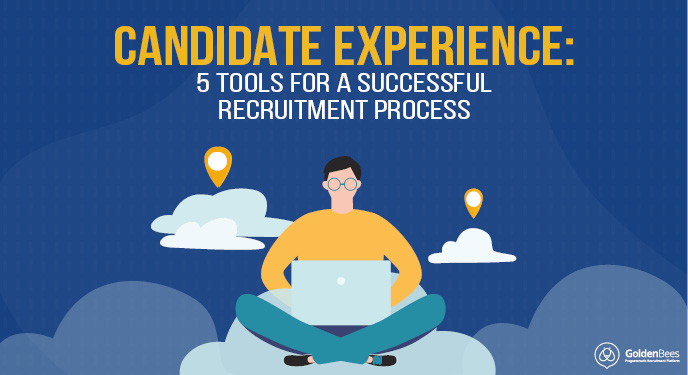 Golden Bees and FCMS (Figaro Group) survey carried out in February 2020 on a panel of 715 candidates
1. Adopting a multi-platform approach to reach 100% of your audience
Posting a job offer on job boards is usually the first, and sometimes the only reflex for recruiters. A habit that has changed little and no longer seems to be entirely in line with the new uses of candidates. In 2020, 29% of candidates that are actively looking for work no longer use job boards, and 36% of them now prefer social networks.
This observation is all the more valid with regard to passive candidates, that must be sought outside job boards, and especially for candidates with profiles in high-demand, who often do not take the trouble to look for a job. Even if job boards remain the most used recruitment tool during an active search, the need for a recruitment strategy with multi-channel candidate acquisition is becoming increasingly essential.
How can you maximise your candidate acquisition levers?
There are many different ways and formats for distributing job offers.
Job boards
Targeted online job offers (websites, blogs, apps, etc.).
Job search engines or aggregators
Social networks
Google for jobs
etc.
This need for a cross-channel approach to reach all candidates involves a certain number of problems on the recruiter's side: buying and negotiating with a range of media, "fragmented" reporting on sourcing actions, a segmented approach with the difficulty of optimising recruitment campaigns globally, a significant waste of time, etc...
What are the most effective HR tools for a cross-channel recruitment strategy?
For any approach based on performance-based multi-distribution, programmatic advertising will be an essential tool and will enable the automated distribution of job offers on all media available on the web and to a qualified audience of candidates. In order to effectively manage a candidate acquisition strategy across a wide range of media, it will quickly become essential to adopt a multi-media approach:
An audience-based approach with job offers adapted to the profile and characteristics of the candidate. Check out the main trend #3: Targeting the right candidate-audience for a perfect match.
A system for automating time-consuming tasks (such as ad placement and reporting)
2. Writing better job offers
Writing job offers must be a thorough, attractive and thoughtful exercise to highlight the job position and the company. Still too few companies are rigorous enough in writing their job offers, yet it is one of the essential elements in attracting the right candidate, receiving relevant applications and improving employer brand.
Job offers that are too vague with a "lack of information" are a real problem for 36% of candidates surveyed. A complete and well written job offer will help to start the user experience in the best possible way.
"We often get the impression that there is a lack of information about online job offers: first it's going to be the salary, then it's going to be the tasks, the type of contract, the benefits, etc.". It's frustrating because when you're actively searching, you'd like to compare the different offers, but you can rarely do it the way you want because they're not all as comprehensive as each other".
- Sofia, Business Developer
3. Targeting your candidate audience for a better match
54% of candidates point out the difficulties they have in finding relevant job offers. This is symptomatic of a tense market, where the match between recruiters and the right candidates is difficult to achieve.
This mistargeting between job offers and candidates can lead to real frustration among job seekers, wasted time, and a feeling of a mismatch between their skills and the recruitment needs of companies. This negative candidate experience - beyond being a macro consequence of the French labour market - can be improved by better targeting of the candidate-audience.
How can you improve your candidate targeting? New web technologies, such as programmatic recruitment, make it possible to adapt job postings according to the profile and characteristics of the online candidate. This makes it possible to distribute job offers through a wide range of media to a targeted audience of candidates. Candidate profiles are segmented according to numerous criteria such as:
The job category,
The location,
The qualification required,
The interests
4. Replying to candidates
For 40% of candidates, the recruitment process does not end in the best possible way. They are disappointed by the lack of feedback they receive from companies. This is a missed opportunity for recruiters to take care of their employer brand when we know that 65% of candidates are less inclined to like a company after an unanswered application. (Source: Yagoo study)
"During a job search, you spend a lot of time optimising your resume, writing cover letters, customising and perfecting them, but often it is a lot of investment for very little result. As a candidate, you really get the impression that recruiters don't realise how much time it takes. Having said that, I have positive memories of recruiters, and therefore companies, taking the time to reply to me, even if it was to decline my application.
- Mathieu, Digital Marketing Manager
5. Automating... applications!
60% of candidates are ready to submit their applications to automated platforms such as Wan2bee to optimise their time and job search.
These new solutions in compliance with the GDPR are positioned as credible alternatives in a market in full digitalisation. 79% of them say they have no problem sharing their professional data to be able to automate their applications.
How does it work? Candidates add their CVs and determine the number of applications they wish to send per day to the job offers that correspond to them. Intelligent algorithms automate the selection and sending of applications in a regulated and transparent way. An innovative approach, but above all, a significantly time saving experience for candidates. It also helps eliminate the feeling of a bad match for the vast majority of candidates.
What do you have to do as a recruiter? All you need to do is connect your offer feed to an application automation platform so that the company can receive highly qualified applications.
These articles may also be of interest to you: