According to the Work Institute 2020 retention report, voluntary turnover trends increased by 88% since 2010. Both SME's as well as large companies are faced with this growing issue, especially after companies invest so much time and resources to attract and hire talents.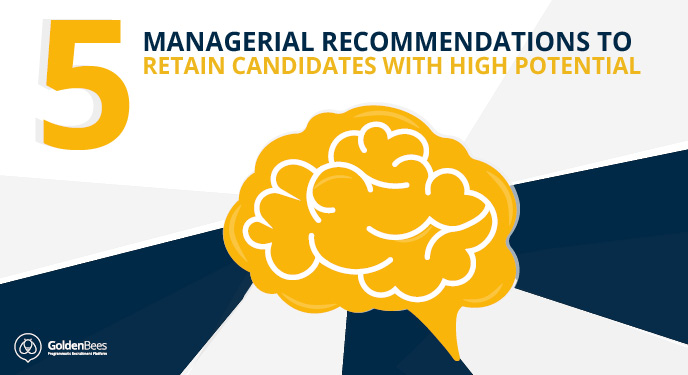 Retaining Talent in an Organisation
Fariha Shah, Managing Director at Golden Bees, gives five recommendations on retain candidates with high potential.



Published in lesechos.fr
Retaining talent is vital for companies. Startups in particular, are highly dependable on human resources. So how can employers solve this conundrum and retain talent for the long run?
This piece focuses on five closely knit levers that can be deployed in all types of businesses.
1. Employee Surveys
Anonymous surveys provide you with concrete insights about your strengths and weaknesses as an employer. This first step is crucial: not only does it show your employees that you're listening to them, it also helps you identify necessary actions to increase their satisfaction level.
You can use existing employee survey tools or do it yourself via a simple Google Form. Then it's about sharing the results with the entire company and coming up with clear plans to meet their expectations.
2. Collaborative and empowering management
If you think that your employees are working with you rather than for you, then you're probably already a collaborative management enthusiast. This is first and foremost a state of mind with which you recruit and manage your talents. When you meet a candidate, ask yourself what the candidate can bring you in terms of skills and added value.
Banking on this logic, you'll delegate tasks the employee can manage independently. In the end, what matters is their performance. This type of management implies a transparent hierarchy: it does exist, but it can't be perceived through relationships and interactions. In this case, the manager's role is to support their team rather than lead it.
This means taking each teammate's personality and skills into account and providing necessary resources, environment and framework to improve individual productivity. Collaborative management favors listening, trust and giving employees a chance to bank on their strengths to achieve their goals. This does not mean that your team has to fend for itself: they need to be given a goal and a direction to follow.
3. Fuel a culture of results
Set clear goals and share them! Each employee plays a role to your business performance. It is therefore only fair to give them visibility on overall and individual results. The OKR ("objective key results") method, initiated by Google can help you do just that. It's a system based on monitoring tasks and goals for the company, teams and individuals, accessible to all and correlated with metrics and concrete results.
This way, you're able to offer a clear vision on your short and long-term prospects. This nurtures the motivation of each individual, who not only strives to achieve their goals, but to exceed them. There are no "rewards" or "sanctions", but a direction to follow and performance indicators that help improve efficiency and effectiveness for each individual.
In the same way, share successes and involve everyone concerned. Whether you have just won a great contract, a positive feedback from satisfied customers or received a trophy? Thank your team and they will reciprocate with great results.
4. Value the individual
Recognition and self-esteem are part of Maslow's pyramid. We all need to be valued to nourish our self-confidence. It begins in our childhood and carries on in our professional lives.
Appreciating someone comes through words, thanks, encouragement and congratulations. But that's not all! An involved employee must be rewarded to their true value, both in terms of professional development and compensation. Did you identify leadership skills in an individual? Invest resources in them to become the leader of their team. Do you sense an entrepreneurial spirit? Give them the opportunity to manage a new project. Did you identify new skills? Ask them to deploy it where they could add value in the company or a project.
Start-ups are often best positioned and have the required agility to initiate such change. Make the most of it.
5. Be benevolent
It is a fact that benevolent behavior can create a real virtuous circle within teams. Paying attention and wanting to do good of each other nurtures group cohesion and a team spirit, while helping to create a friendly working atmosphere. All of this improves well-being at work, an intangible indicator—but one that definitely makes an impact on productivity and motivation.
In professional contexts, benevolence takes on a different dimension. This quality should be defined as human behavior, based on trust and respect for others, free of judgments and governing the way individuals interact to promote living together, as long as the interest of the business isn't disrupted.
As the new generation of candidates are savvy in many ways, companies have a vested interest in developing an HR strategy to attract and retain talent. Many subjects, such as the balance between professional and personal life, the search for a meaning, personal development, well-being at work, will have an impact on the satisfaction rate of your employees, and thereby the turnover of your company. You can differentiate yourself and improve your competitiveness putting people at the heart of your corporate culture.
On the same topic: