The digital transformation has radically changed the field of human resources, reinventing recruitment practices. Given the growing pressure on the job market and changing candidate practices, recruiters must now invest in innovative solutions. The ultimate high-performance solution: programmatic recruitment. Discover 4 reasons to use programmatic recruitment to improve your recruitment process.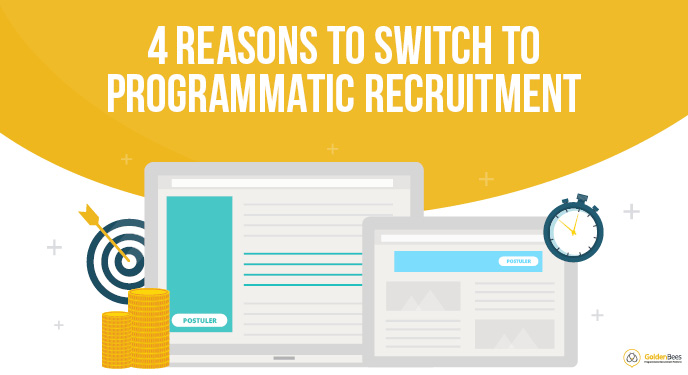 1. How does programmatic recruitment work?
The programmatic approach applied to recruitment, automates the candidate selection phase. It enables job offers and employer brand messages to be automatically distributed throughout the web through a single point of contact, to a highly qualified audience of candidates. Recruiters (you) will be able to advertise their job offers as ads on a wide range of media: display advertising, for example, with ad placements on online media, on audio streaming platforms such as Spotify, or on social networks.
Programmatic recruitment transforms the recruiter's approach. Rather than defining the media on which you want to advertise, you will define the targets you want to reach. Intelligent algorithms will calculate the performance of each audience segment, each medium and each message in real time. The goal: continuously optimise the performance of your campaigns. The purpose of programmatic recruitment is to receive qualified applications quickly and at the best cost possible.
This innovative solution represents 50% of the investment in the HR paid ad market in 2020, and posts covering 98% of the web and mobile advertising market.
2. Why use programmatics in recruitment?
a. To increase your brand awareness
How can you enhance your corporate culture if no one knows you? By definition, programmatic recruitment increases the exposure of your company. To restrict yourself to a single distribution medium is to deprive yourself of potential candidates. By multiplying the number of distribution media, other profiles will discover your company, including passive candidates who might not browse job boards.
Let's take the case of Manpower's regional management boards, assisted by Golden Bees. Their objective was to recruit non-managerial, multi-skilled profiles in different regions and to advertise job offers.
The programmatic recruitment campaign enabled the company to generate more than 100,000 applications: around 50% of applications via passive targeting and 50% from active candidate acquisition sources.
b.To optimise your time spent on recruitment
Recruitment is time-consuming and repetitive. Between defining the hiring needs, the ideal candidate, drafting of a job description and a job offer, choosing a distribution channel, collecting and organising applications, checking if the CVs qualify, etc. The selection process is made up of many time-consuming tasks that could be optimised.
This is where programmatic recruitment solutions step in. It automates the purchase of advertising space for job offers or employer-branded messages, a highly time-consuming task in recruitment. Human/machine integration greatly relieves recruiters (saving them 70% of their time) by allowing them to focus on human value.
c. To better control your recruitment costs
With programmatic recruitment, we are constantly looking for the best location to reach recruitment targets at the best price. There is no room for error in the selection of locations and the distribution of advertisements, the deep learning algorithm takes care of the work. Just like a real marketplace, applicants and suppliers of ad space meet on an AdExchange platform. This platform works on the principle of Real Time Bidding: the algorithms bid in real time to reach their target at the best price. The automated buying and selling platform (AdExchange) has several advantages:
Investment decisions governed by algorithms that define the best investment at the best cost
Advertising space is only paid for when a candidate, who is likely to apply, shows an interest in the offer.
Precise view of the cost per application for each profession
Rating of campaign performance through comprehensive analytical reports
Real-time investment optimising according to performance
This method of optimisation leads to a reduction in costs per application of up to 90% (compared to those seen through traditional acquisition channels).
d. To attract qualified applications
The aim of programmatic recruitment is above all to target the right audience for your job offer. It also makes it possible to capture passive candidates who are not actively looking for a job. Candidates can be targeted in several ways: behavioural targeting, for example, allows you to personalise advertising content according to the behaviour of candidates and their browsing. This is called retargeting, which involves re-targeting online users - visitors to your career website, for example - with personalised job offers. It can also be based on user-declared data linked to the professional profile of online users, or it can even be targeted at the interests of the desired candidates.
Programmatic recruitment is extremely useful when looking for sought-after talents, who are more difficult to attract. For example, this is the case with the campaign set up by GoldenBees for SNCF Réseau looking to collect qualified applications from sought-after profiles.
Programmatic recruitment draws its strengths from AI to find the best communication and advertising opportunities. Beyond recruitment efforts, the war for talent on the job market also requires internal retention efforts. An approach that will ultimately benefit your company's employer brand and HR reputation. Ultimately, this will make you more attractive to talent.
These articles may also be of interest to you: