Have you ever thought about segmenting your candidate audience? This marketing-inspired approach could help you personalise your communications to better attract talent. Interested? Discover 3 good reasons to use segmentation.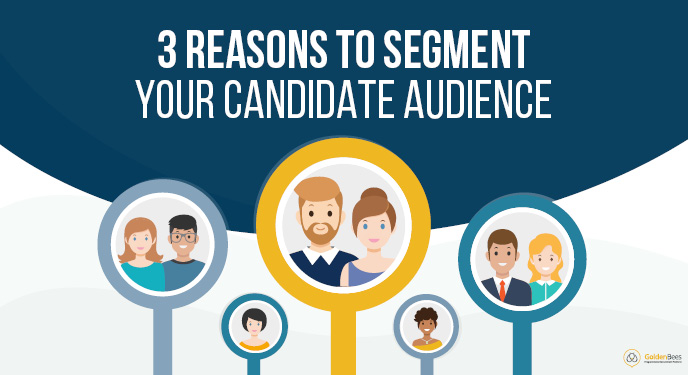 1. Reason #1: To customize your employer brand messages
a. A major part of inbound recruiting
Candidate audience is one of the pillars of inbound recruiting. As a developer, would you like to receive articles on marketing techniques? Probably not. The study of your candidate segments will enable you to understand the expectations of each one in order to better respond to them and communicate a specific message to each target. A personalised message means better performance and more commitment. Personalisation has already proved its worth in marketing: according to a study by Onespot, 87% of consumers say that a personalised message influences their perception of a brand... And the same is true for the employer brand.
b. A strong foundation for your Candidate Relationship Management (CRM)
Personalisation is key to optimise the results of your Candidate Relationship Management strategy. A study conducted by Invesp shows that emails with a personalised subject line with the recipient's first name have 22% more chance of being opened. That's the whole point of candidate segmentation: you'll be able to tailor the topics you communicate on, the tone you communicate in, and the timing of your communication to suit your candidate audience. You will be able to adopt a more formal tone for your senior audiences. Adapt the job offers provided, the topics covered: there are endless possibilities for personalisation.
In short, segmentation allows you to personalise your candidate interactions. This means more engagement, and better conversions.
2. Reason #2: To hit your target in the heart
Segmentation is also an essential part in targeting your candidates. Innovative solutions, such as programmatic recruitment, now make it possible to target candidate profiles across the entire web: displays, social networks, job search engines, streaming platforms and much more. This is what we call targeting. And to target, you first need to have a very precise idea of the candidate profile you want to reach. A developer with five years of higher education? A bus driver? A senior sales person? All these profiles have very distinct demographic, psychographic and behavioural characteristics. Not to mention location: when you are looking to fill a job position in Wales, it would be irrelevant to show your job offer to Londoners.
Therefore, segmentation will make your recruitment process easier by giving you a precise idea of your targets. It will also help you know how and where to reach out to them. You will be able to send the right job offer to the right profile: the person who is most likely to be interested in your offer and to apply.
3. Reason #3: to prioritise your communication projects
By personalising your interactions, you will get indications on the performance of your messages according to the audience, the profession being promoted and the medium. Performance monitoring is essential to determine which targets you are recruiting effortlessly and which ones are giving you a hard time. This will enable you to identify new opportunities. For example: you regularly recruit developers but you have no specific content to communicate to this audience. Or another example: you want to reach out to millennials but you have not worked on your communication towards this target group. The segmentation of your candidate audience will enable you to identify a communication need and to involve the necessary resources to better appeal to this candidate profile.

You will then be able to prioritise your communication projects and distribute your financial and human resources in order to achieve your recruitment goals.
These articles may also be of interest to you: